NON-FICTION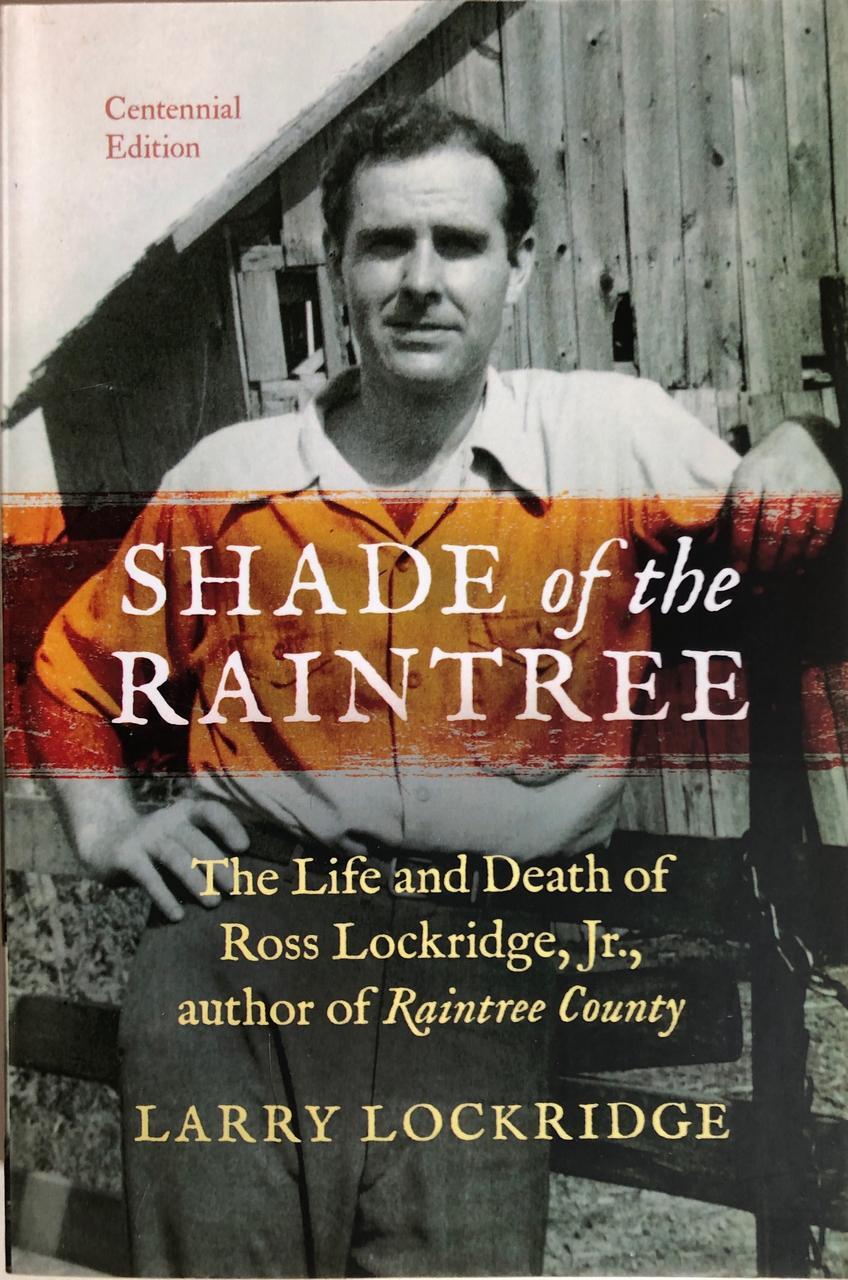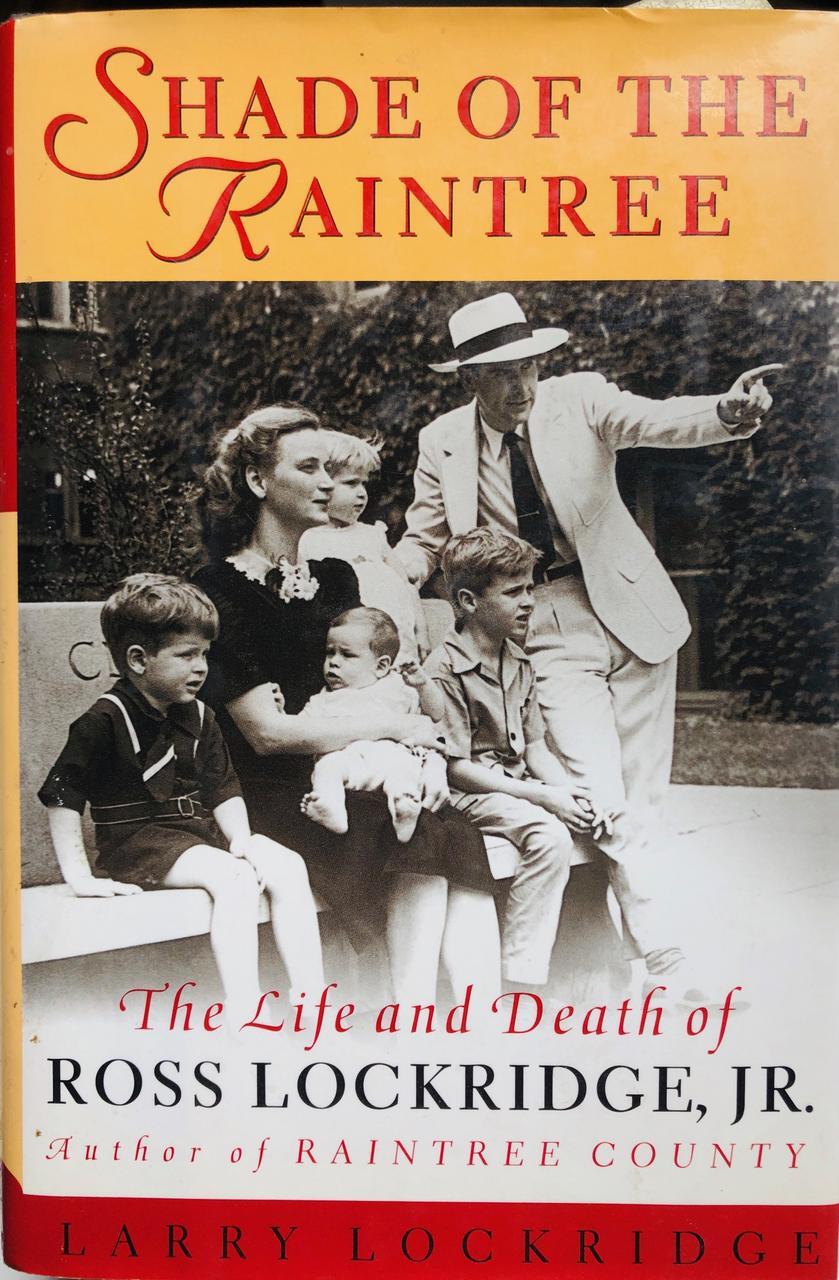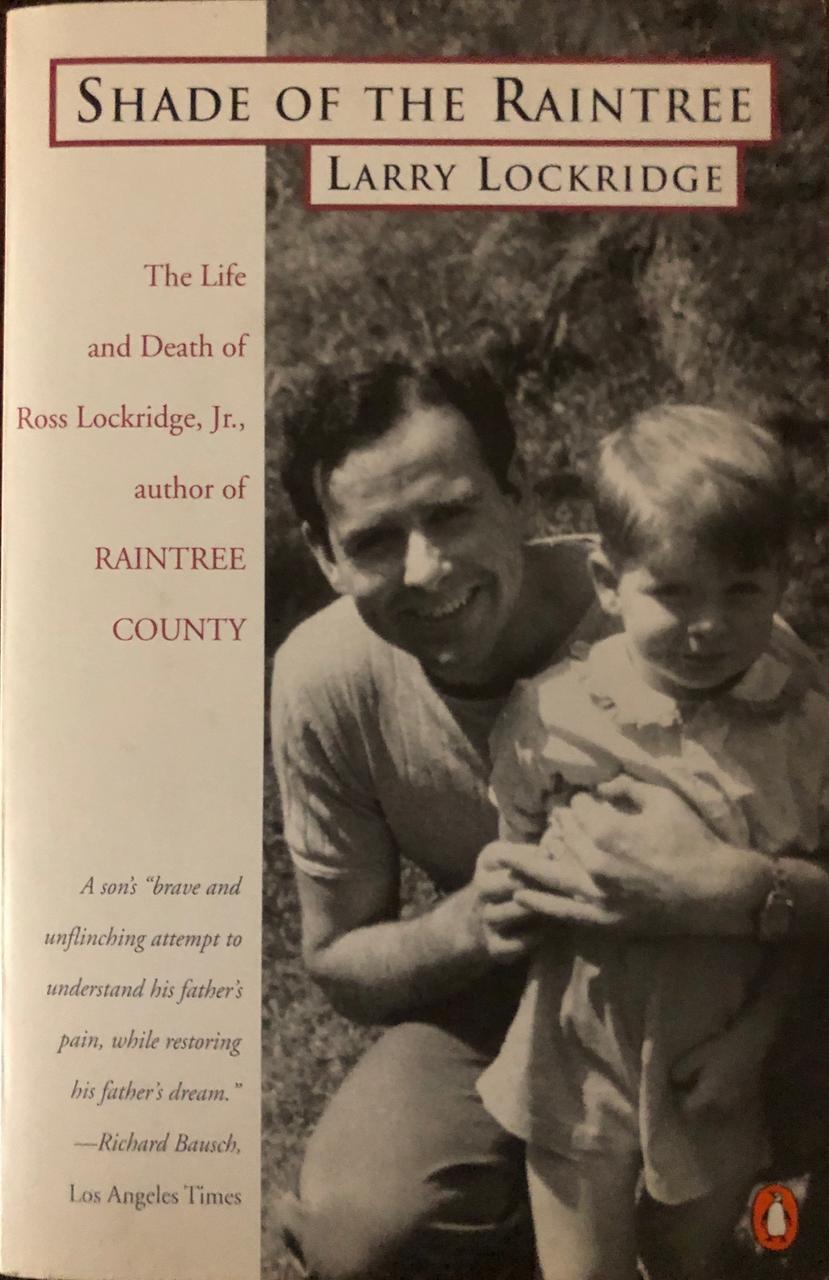 Shade of the Raintree: The Life and Death of Ross Lockridge, Jr., Author of Raintree County (Viking, 1994; Penguin USA, 1995; Indiana University Press, 2014, with a new preface). 525 pages. In print and available at Indiana University Press and on Amazon. http://www.iupress.org
I quote excerpts from many reviews below because collectively they convey what I attempted in this biography. They also illustrate that a critical success doesn't imply sales. Though the critic for the Boston Globe prophesied that Shade of the Raintree would become "an American classic," it was soon out of print. Thanks to Indiana University Press, which perhaps had a bias in favor of its hometown author, I got the biography back in print just in time for the centennial of my father's birth. Since I was only five when he died, I wrote a fully-researched biography, not a memoir—but the first chapter, which begins with the aftermath of the suicide over the decades, is certainly memoir.
When Shade of the Raintree was first published in 1994, a surprising number of critics, seven or eight, went out on limbs to proclaim Raintree County The Great American Novel. Most of these critics have died by now and the novel is rarely discussed in criticism. I myself don't presume in my biography to make a qualitative judgment, just a couple of quantitative ones: Raintree County is the most "encyclopedic" American novel in Northrop Frye's sense, and the most "carnivalesque," in Bakhtin's. But it could be both these and still be a failure. Certainly my father thought it a failure in the end.
Since it is an outlier in the American canon (and I couldn't get my colleague Harold Bloom ever to read it), few read it today and settle for the awful MGM adaptation of 1957, released nine years after my father's death and written by the creator of Mr. Magoo. Director Edward Dmytryk confessed he had never read the novel. In my view, the movie has scant connection to the novel, but it's still fun to watch vibrant Elizabeth Taylor, electric Eva Marie Saint, and damaged Montgomery Clift in the starring roles. Lee Marvin has his first major role here. John Green's innovative and haunting, if wall-to-wall, musical score deserved more than an Oscar nomination. I dearly wish it had been a better movie, if only because the novel would have a larger readership.
My brother Ross Lockridge III maintains a website devoted to the novel and its many contexts: http://www.raintreecounty.com
Reviews:
"No disappeared father has been more honored by son's inquiry than is Ross Lockridge, Jr. by his son Larry's utterly engaging biography. The son's gaze is forthright, sparing nothing, accepting and reconciling all, and bringing to this absorbing history the same ancestral powers of narration which distinguished his dazzling, lost father." Thomas Keneally, book jacket
"In the annals of 20th-century American literature, there may be no act more puzzling than [the suicide of Ross Lockridge, Jr.]" Shade of the Raintree is a book that is, in its own way, as remarkable and compelling as Raintree County. . . . A review cannot do justice to the richness and detail of Lockridge's analysis of his father's despair . . . He has produced a wonderful hybrid: a solid, dispassionate biography that is at the same time a tender and understanding homage." Roger Miller, Milwaukee Journal
"In a writerly achievement of great magnitude, Larry Lockridge lights up every dark corner in his father's soul and convinces the reader that an even greater tragedy has taken place than the self-destruction of a writer. Raintree County, . . . a landmark in American fiction, lies a victim, along with its dead author and his reputation. Shade of the Raintree . . . is a book whose stirring power and complexity would daunt any reviewer. These are depths you simply must swim down into rather than be told about . . . This is as well a major work on clinical depression that gathers you into the illness's grip link by link until death seems the only release. If it were up to me, I'd give this book all the awards and literary rosettes that Raintree County should have received but which went to far less inventive works back in the dim old days of 1948." Donald Newlove, Philadelphia Inquirer
Larry Lockridge "has written a wonderful biography . . . [He has] an unsparing yet loving hand, a steady grace and humor that are nothing less than remarkable . . . In telling the difficult story of Ross Lockridge's death, he provides a deeply moving portrayal of a good and gifted young man in the grip of something terrible . . . [It is] this son's brave and unflinching attempt to understand his father's pain, while restoring his father's dream." Richard Bausch, LA Times
"The saying goes that you should beware of getting what you most desire. Superficially, at least, this sums up the dramatic account of his father's life that Larry Lockridge has written . . . Shade of the Raintree is the son's attempt to set his father's psychic record straight . . . We get a large portrait of a sophisticated artist who was the furthest possible thing from a Midwest bumpkin . . . Still, the reason one keeps reading it is to plumb the mystery of the father's self-destruction, and in the son's account the father's experience seems both harrowing and inevitable . . . What impresses you is the sense of reconciliation the son conveys." Christopher Lehmann-Haupt, The New York Times
"It is with a youthful exuberance that Larry Lockridge tries to recapture his father's young mania to put everything in . . . He would not have wanted his father to have written a less ambitious book, nor to have given up the great egoism, which was also a great generosity, to have striven less high." Erika Duncan, The New York Times
"The son of Ross Lockridge, Jr. … cuts his father a new suit and redresses an injured great American writer . . . Larry Lockridge here faces the double task of writing a biography of his father and of finding out what drove him to a ruthless act of self-destruction. In doing so, he has produced a major work on depression: a superb analytic description of clinical depression as it was understood vaguely in 1948 and more fully today. At the same time, he describes a great American tragedy . . . An immensely moving book, deserving of the Pulitzer Prize . . ." Kirkus Reviews
"Larry Lockridge has written a moving account of his father's life . . . I, like many Americans, was stunned by the news of his death in 1948. I am hopeful that the biography will generate renewed interest in Raintree County. The biography is wonderfully evocative of Bloomington [Indiana] in the years before World War II." Representative Lee Hamilton, book jacket.
Ross Lockridge's "tortured dealings with his publisher and subsequent descent into depression make an unhappy but fascinating story, and Larry Lockridge tells it well . . . In his breakdown and collapse Ross Lockridge, Jr. comes fully alive on the page . . ." Scott Donaldson, Washington Post, International Herald Tribune
"Overall, Shade of the Raintree is compelling, supplying details, knowledge and understanding that had been missing. It gives a fresh look at a book that many people—myself included—believed was the closest any work had ever approached the mythical goal of the Great American Novel." Leonard Duckett, Fort Worth Star-Telegram
"Beyond any other standard, I tend to judge the quality of the biographies I read by the sense of loss I feel at the death of the subject. In this vein, I have seldom been moved more deeply than I was by Shade of the Raintree." J. Kent Calder, Traces magazine
"In telling this tragic story, son Larry, with a magical touch of his own, emulates his father in brilliance and intensity: result, a reading experience at once moving, candid, and hypnotic. Shade of the Raintree is worthy of sharing the shelf with Raintree County—which, incidentally, I had the rewarding thrill of reviewing years ago for The New York Times." Charles Lee, "Arts in Review," WFLN, Philadelphia
"Shade of the Raintree is a riveting book, shattering and shot through with the powerful poignancy of a life undone. I have read my copy twice through already, and will turn to it again and again, as I read and re-read Raintree County." Robin Mather, Detroit News
"Meticulously, unflinchingly, the younger Lockridge has created a biography (it can hardly be called a memoir) that is also a searching clinical study of depression; a remarkably objective essay in literary criticism; an important contribution to rural American history, and, finally, a magnificent and compassionate act of forgiveness." Tim Page, Newsday
"The biography is remarkable on many counts, not the least of which is that the son is loving of the father without blinking his fatal grandiosity . . . One finishes Shade of the Raintree with a renewed sense of the injustice of Ross Lockridge's inevitable label as a one-book writer in the face of the one great statement that cost him everything." Richard Hauer Costa, Houston Chronicle
Lockridge's second son, Larry, shows a vibrant, loving, passionate, and brilliant man—as flawed as the rest of us . . . By the close of the book, most readers feel that they have survived the sad loss of a friend worth keeping. This book is balanced and it is heartbreaking." Mae Callaghan, Harvard Graduate School Alumni Newsletter
"The precarious balance between love and commitment, and between the torment and the truth has been beautifully maintained . . . Thus we find here a great life, a great novel, and a great tragedy memorialized in a classic vein . . . The son manages to catch 'the murmur of the spirit,' to use the Indian editor, R. Raghunatha Aiyer's eloquent words in relation to great prose." Darshan Maini, The Tribune (syndicated in many Indian newspapers)
"It is clear that Shade of the Raintree is [like Raintree County] destined to become an American classic on its own. It is a biography of a compelling figure written with compelling urgency and depth of feeling by a son seeking the father he never got the chance to know. . . The best thing about Shade of the Raintree is that it sees nothing in idealism to ridicule; Lockridge can make us feel it the way his father did." Richard Dyer, Boston Globe
"The republication of Raintree County and the publication of Shade of the Raintree are indeed the most important literary publications of 1994." David Anderson, Director, The Center for the Study of Midwestern Literature and Culture
"Larry Lockridge has written what in my faither we call a Kaddish, for his father and for his mother too, beautiful and memorable." Herman Wouk, paperback book jacket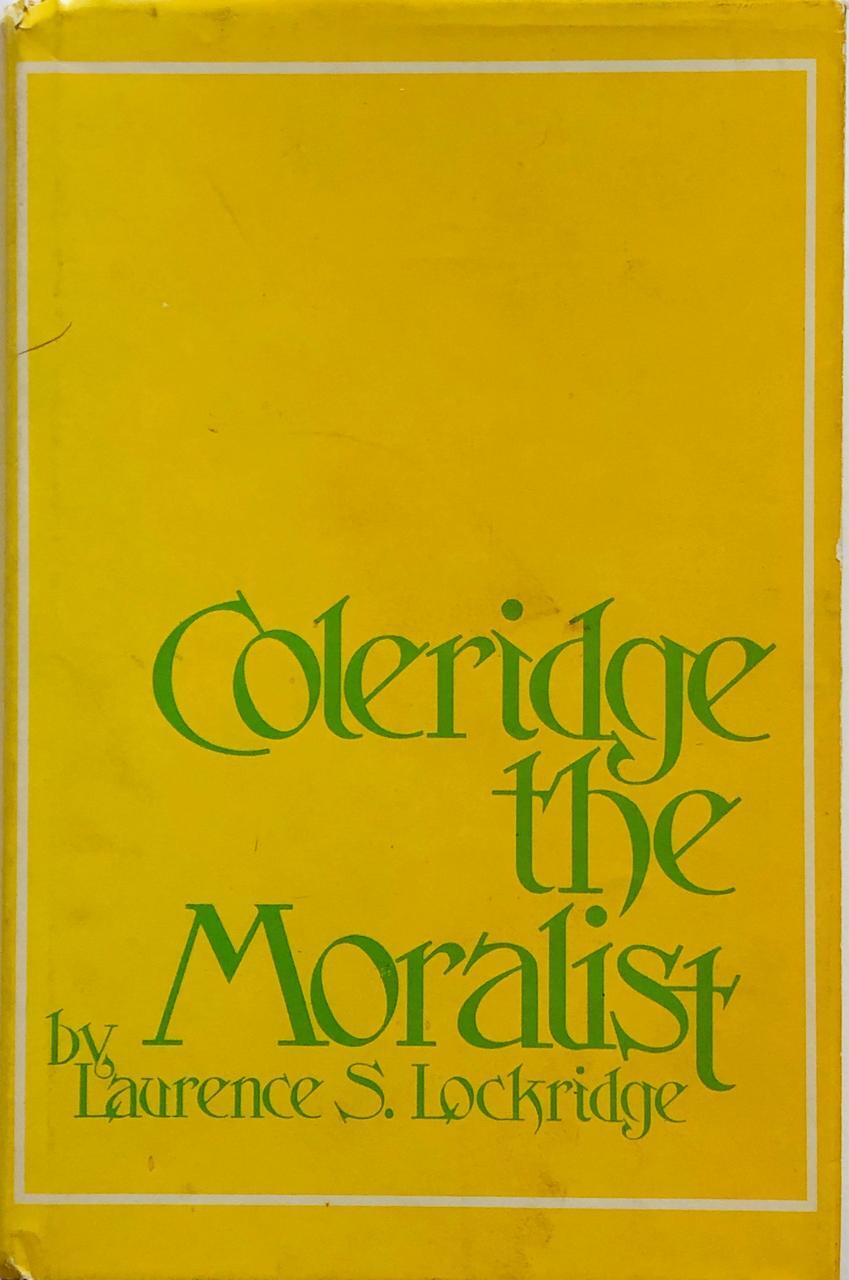 Coleridge the Moralist. Cornell University Press, 1977. 293 pages. Gauss Award nominee.
The title is misleading. Coleridge went well beyond making normative moral pronouncements in the manner of Dr. Johnson. If ever I put the study back in print, I'll call it Coleridge: The Ethics of an Opium-eater. Subsequent to its publication, "ethics" became a buzz word in literary criticism, and the book might still be in print had it been so titled. That an opium addict widely known for "weakness of will" would have had an ethics is surprising in itself. But Coleridge wrote frequently on the topic of philosophical ethics, if in bits and pieces. These I pieced together into a coherent view of the ethical life, along with its relatedness to the life Coleridge himself led and wrote about, as someone who well knew the "slippery nature of all self-inquisition."
Reviews:
"The major contribution of this pioneering and rewarding book is that it sets out to relocate Coleridge in the English moral tradition by setting the larger mind that is now available to us against the positions of the moralists who had preceded him." John Beer, Times Literary Supplement
"Mr. Lockridge has written a book without parallel, the first full-length study of Coleridge's ideas on morality. There is no other study quite like it in part because he has made thorough and creative use of the recently published editions of the Notebooks as well as the letters and volumes of the Bollingen edition. Mr. Lockridge also draws from the Opus Maximum manuscript . . .as well as the as-yet-unpublished notebooks . . . The result of Mr. Lockridge's effort is a book of considerable importance, not only for the student of Coleridge's thought but for those who want to explore his sense of self and the relation of that sense to the total context which is STC." Frederick Garber, JEGP
"Lockridge claims, so far as I can see with justice, that he has examined every one of the unpublished Coleridge manuscripts. For a scholar still in his early thirties to have done this, and excerpted from the documents according to a clearly defined line of interest, is really quite astonishing . . . Although sentence by sentence and page by page Lockridge's prose is elegantly close and clear and rapid, the cumulative effect is eloquent and even passionate." Donald Davie, Stanford University, pre-publication commentary on manuscript
"Dr. Lockridge's study is both important and fascinating. It is important because it is the first book on Coleridge to deal with his numerous writings on what Lockridge calls 'the paradoxes of moral struggle.' And it is fascinating because it gives an extraordinarily well-organized, clear and unobtrusively elegant account of Coleridge's thinking on these matters." Mark Roberts, The Times Higher Education Supplement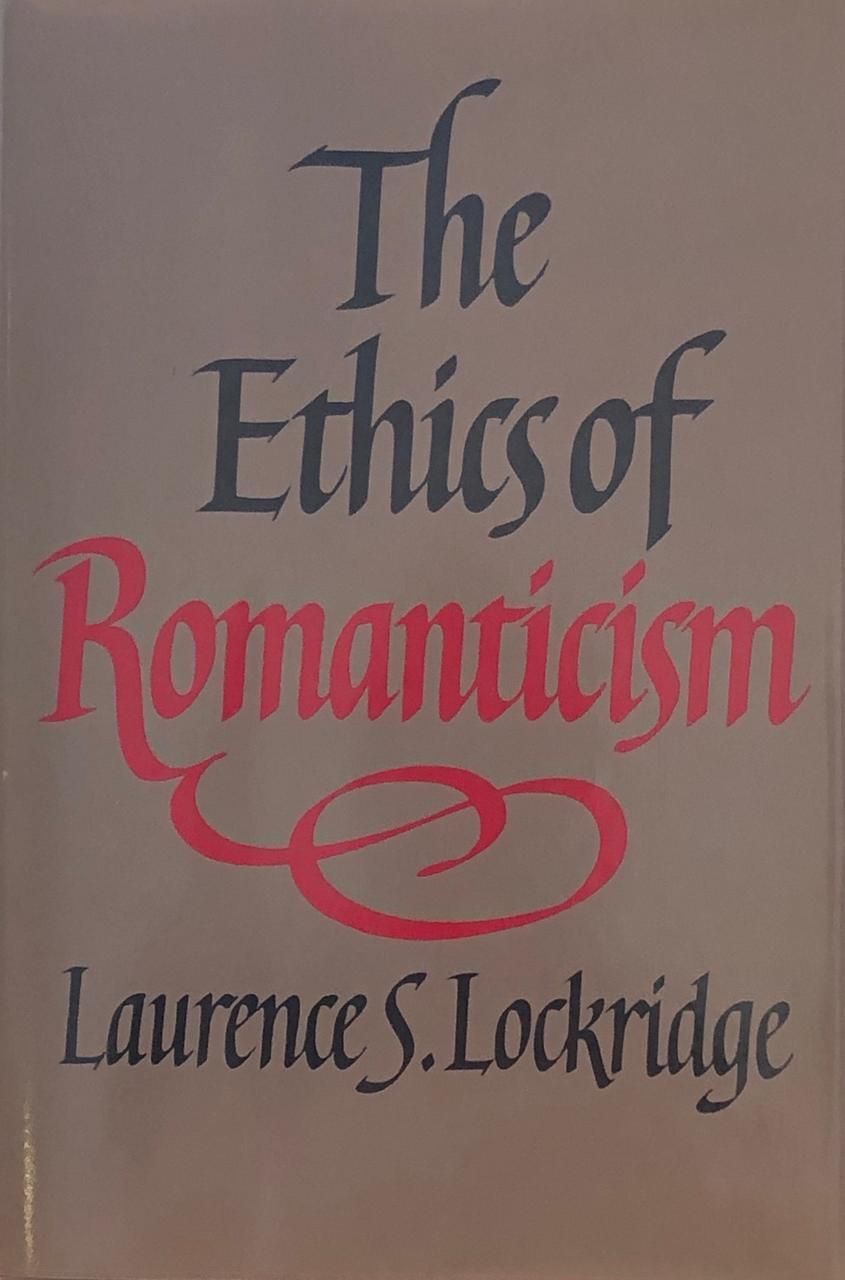 The Ethics of Romanticism. Cambridge University Press, 1989; rpt. 2005. 508 pages. Gauss Award finalist. In print and available at Cambridge University Press. http://www.customer_service@cambridge.org
This is my magnum opus on critical ethics and European Romanticism. Nobody would wish it longer. Leafing through its pages, I'm often surprised to see that such and such a sentence, rather good, sprang from my brain so many years ago. I didn't intend it to be an academic book for specialists, rather a full-length manifesto claiming the importance of critical ethics to literature in general, not just the Romantics. And I hoped it would take its place alongside such classic studies as M. H. Abrams's The Mirror and the Lamp and Northrop Frye's Fearful Symmetry. Perhaps its heft weighed against it—I should have published it as three separate volumes—as well as other disqualifiers, for it had small influence and was not so widely reviewed as Coleridge the Moralist. I'm glad Cambridge University Press reissued it many years later in paperback, and I entertain the notion that someday it might make its way.
Reviews:
"I have never read so masterly a book in manuscript, and it should in my opinion be published in such a way as to demonstrate the weight of knowledge it represents." "Summary," press reader's report
"The strength of this book is its breadth, and ethical considerations are shown to be central to early nineteenth-century English literature. And because of its breadth, I would go so far as to recommend Lockridge's study as an advanced introduction to English Romanticism . . . The service this worthy book performs for studies in Romanticism is that it returns us to approaches that go beyond or behind the contemporary critical milieu where the problems of referentiality often override all other considerations.' G. Kim Blank, English Studies
Lockridge "describes a Romantic ethics which asserts a will to value in the face of a deconstructionist literature that denies the possibility of foundationalism—this because the romantic writers saw the problem more clearly. They were both more subtle in describing the situation of ethics and more honest about the pluralistic systems by which we assign values than anyone who went before. It is this attention to ethics which defines Romanticism as a movement, as evidenced abundantly in Lockridge's lengthy study. And it is the Romantic effort to will value which Lockridge hopes to promote as a humanistic response to the darker side of deconstructive criticism." William Dennis Horn, Nineteenth-Century Prose
""In 1989, at the dawn of this renewed interest in the ethical, Laurence Lockridge published his admirable and insufficiently regarded book, The Ethics of Romanticism, a sustained analysis of 'the ethics of Romanticism in light of modern metaethics and ethical terms.' That it did not find a wider audience upon its first appearance is partly due, I think, to the Marxist tendencies of new historicist Romantic study, then in its meridian . . . Lockridge also anticipates deconstructionist objections to his project, and he answers them eloquently . . . Lockridge's sustained analysis of the ethical play of mind in each of the 'big six' poets plus Hazlittt and De Quincey is consistently rewarding; this is a book that deserves a second, or a belated, reading." Adam Potkay upon reissuing of The Ethics of Romanticism in 2005; The Wordsworth Circle